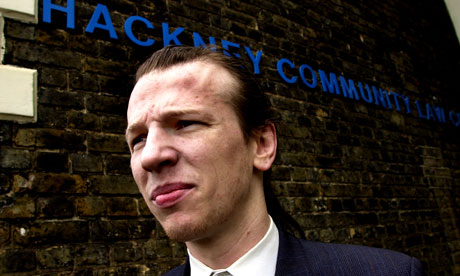 Our Housing Solicitor Nathaniel writes an excellent blog entitled: 'Frontline Hackney – A day in the life of the law'.  We reproduce two of his most recent articles below.  *Names have been changed for confidentiality purposes*.
3,000 people walked through our doors in the last year. That's at least a 40% climb in people seeking legal advice. There are a dozen salaried staff, many part time. Wonderful volunteers defend the parapets.
We run out of stamps, our photocopiers break down, and suddenly we find it is almost impossible to print a letter. Without the ability to print letters we are a little like Silvio Berlusconi, all fur coat and no knickers.
Staplers break, pens stop working. It's all a bit spooky.
Chorouk observes that when she tries to print a letter the little twiddly gears on the photocopier start to melt. For every page she prints or copies she has to extract 9 mangled pages from the bowels of the beast, one at a time. She's a trainee solicitor, with oak leaves.
The Xerox call centre in Manilla promises a speedy response when we pay our bill. The thing is, our Legal Aid funding was cut by 10% last month. So already the bills are a problem.
Paula arrives without 3 of her 5 children. The kids are beautifully behaved. She's homeless tomorrow.
Hossein who is mentally ill arrives distraught and he also is homeless tomorrow!
Rita, Sue and Bob come in to talk about housing, benefit and immigration rights. The money problems have to be put to the back of the queue. It's not nice because if your giro's stopped you're going to be upset and worried. However evictions and deportations top our resource-meter (to use management speak) because they are catastrophic events.
Emails are sent, writs are drafted in our heads and we generally run around like chickens doing the Legal Aid dance.
When the dust settles no-one is homeless tonight and no-one has been deported. Good result? I hope so.
Volunteer Miranda walks in while the dust settles with the client with no name we all forgot about. She's housed a person with a few phone calls and has no idea why we start to cheer.
Walk the line, do the right thing, fear no-one. It's getting to be so difficult. Which is why we're closing our doors to new clients for a month". 
And so to Parliament again to hear about the impact of Legal Aid cuts on victims of domestic violence in a report by that very British group, the Women's Institute.
Jean suffered domestic violence 40 years ago. Her husband and assailant was a wealthy man. He held her under his sway. He put her in the hospital, and were it not for Legal Aid she would not have obtained her divorce or custody of the children. Her husband was convicted of causing GBH. She tells us that without Legal Aid, she would have gone home to the man who put her in intensive care.
Sam learnt that her partner had been convicted of tying up and raping a child. When she asked him to go he refused to do so. Eventually he went to prison for what she saw as an attempt to kill her by stabbing or breaking of the neck after she'd put the kids to bed. He went to prison, but for years after he stalked her, even in Court. She says that without a doubt she would now be dead if she had not been able to get help from the Courts.
Claudia managed to escape, but has to tolerate her daughter asking why her dad, who has contact with their daughter regularly, tells her that Claudia's not her mum. "You're white and she's black" he says. A wise child knows her own father I think, but most know their mother.
The proposed Legal Aid cuts are catastrophic.
If, in the last 12 months you have managed to get the man who used to hit you into prison or get him on trial, if you have managed to get any judge anywhere to state on the record that your allegations of domestic violence are proven, then you will get a service. If it happened more than a year later you won't get any help if psycho husband turns up.
If you manage to get a social worker concerned about the impact of the domestic violence that's good. If the police and the social workers have a meeting and declare that you are likely to suffer GBH or something worse that will help to get you a service.
Good luck with that then.
To get Legal Aid for domestic violence it is not sufficient to walk into a police station with a black eye. Convictions for rapists and assailants are very low. But if you have managed to achieve a conviction against your assailant in the last 12 months (no longer) you could get Legal Aid.
The government line is that objective evidence must be obtained that the woman is at a high risk of violence. The matter is being debated as we speak. But as anyone who knows anything about domestic violence will tell you, often the only witnesses to violent events are the victim and the perpetrator. Victims feel undermined and isolated, hiding their bruises, failing to report their rapes. They are cowed, they blame themselves.
One survey found that 70% of women in refuges failed to report their abuse to the police. With pitiful conviction rates for offences like rape, you can see their point.
The government's adoption of a new definition of domestic violence for which funding will be available will prevent many domestic violence victims, as recognised by by the Association of Chief Police Officers, from getting Legal Aid and thus they will have to represent themselves. They will have to be subjected to cross-examination by their assailants, something which in criminal rape trials is becoming a thing of the past.
Baroness Scotland, the Shadow Attorney General, tells us that in the last government domestic violence was reduced by 65%, constituting a saving of £7.5 billion pounds in social costs. It seems that this trend will now go into reverse.
In the debates the Legal Aid Minister Jonathan Djanogly states "I am not questioning the integrity of genuine victims. However, many people during the legal aid consultation were concerned about providing an incentive for unfounded allegations and the government shares this concern."
What really? The 5,000 response to the consultation included a significant response from rational people who felt it was too easy for battered women to get Legal Aid. I rather doubt that.
My brain fries at a certain point. I don't do family law, I just smell something that's not right. Justice doesn't smell like this. Not right, not fair.
Write to your MP. It takes 30 seconds on Justice for All's website ".
If you enjoyed reading these articles from Nathaniel's blog – 'Frontline Hackney – A day in the life of the law' – and wish to read more of his articles, please click HERE.